I thought, as the year draws to a close I would write a little annual summary. It's fair to say, I think, that 2016 has been a year of unexpected changes for us as well as a time for achieving things I never thought  I would and meeting people who have changed my life forever. Looking back through these photo's, it would seem that despite everything that happened earlier this year, 2016 was the year I found my smile!
J A N U A R Y
01.01.2016 – New Years Celebrations
We started the year off with a splash. Instead of the bang of fireworks, the clinking of glasses and cheers of celebration, at the stroke of midnight on 1st January 2016 myself and seven other crazy fools (who all happen to be family) took on our final challenge for team SMAsh it! – the 12 ice buckets at 12 event where we had bucket after bucket of iced water tipped over us to raise money for The SMA Trust.
05.01.2016 – Libby's 13th Birthday
Watching my younger sister turn from a little girl to a feisty, strong willed and beautiful young lady has been one of my favourite things this year. She is my best friend, confidant and partner in crime and I am just so glad that we are as close as we are despite our nearly 10 year age gap.
23.01.2016 – A shitter of  a day – apparently!
M A R C H
06.03.2016 – Snuggly Pup
By March even the dog was fed up with the dark & early mornings!
28.03.2016 – The Day A Monkey Showed us Her Vagina
On Easter Monday, after Sean's mountain trip was cut short, we headed to Howletts for a date day.
A P R I L
16.04.2016 – Dirty Dozen
One of the toughest – mentally & physically – things I have ever done and yet one of my proudest achievements to date. On April 16th, I along with some of our amazing family, completed the Dirt Dozen OCR.
24.04.2016 – Lazy Spring Mornings
M A Y
04.05.2016 – Crisis Cocktails!
Apparently I had a bit of a crisis at the beginning of May and found myself on a train to London to meet my friends and drink cocktails on a school night!
07.05.2016 – A Break Away for Sean's Birthday
In May we headed to the coast for a week away in Camber Sands, just Sean, myself and the Pup. We stayed in a caravan right on the seafront and spent many a sunshiney day on the beach.
21.05.2016 – Know Your Normal Fundraiser #1
With a little help from my sidekick sister and some friends we launched our first local campaign for Know Your Normal. We had a photo booth in our local shopping center where women were encouraged to share their own health experiences when it came to their boobs, periods and pregnancies. We spent the day raising awareness and money for Coppafeel! and Kicks Count dressed as super heroes.
JUNE
08.06.2016 – #KYNCalendarGirls Photo Shoot
I somehow convinced 11 lovely ladies to travel with me to Chester and take their kit off for a calendar photo shoot for Know Your Normal. The two days we spent at Red Shoe studios with Sarah, Sam, Mandy & Nicole were truly inspiring and I will hold their friendship and the memories they gave us in my heart forever.
 27.06.2016 – Hospital Drama
Ironically, after setting up the Know Your Normal campaign to encourage women to report changes they notice in their health, I was taken into hospital with abdominal pain which had left me unable to move for a week. After talk of appendicitis and ectopic pregnancies, an ovarian cyst was diagnosed and removed after a five day hospital stay. It was a scary time for everyone, and Sean was by my side all the way through along with my Mum & sister. As I went into theatre I remember the last thing I said to the surgeon was 'please make sure I can have babies one day'.
J U L Y
Recovery
July was all about recovery for me. It took a longer than usual time for the anaesthetic side effects to wear off and physically everything hurt and had to be helped to the loo. I was on strict bed rest instructions for two weeks. It meant I was able to take loads of insta worthy photos on my white bedsheets without even moving and indulge in plenty of pup cuddles though.  We had a mini celebration (ate chocolate) the day I was able to stand up straight & put some make up on my face!
A U G U S T
10.08.2016 – No Boys Allowed Corfu Holiday
After a long recovery and a crappy start to the summer Mum, Libby & I booked a last minute girls holiday to Corfu. We stayed in a lovely family run hotel in the picturesque sea side resort, not far from Kassiopi and had the most relaxing girly time.
17.08.2016 While the cats away, the mouse climbs mountains!
Unable to get away together in the summer, our separate holidays overlapped and while I was sunning myself in Corfu, Sean and hist Mum, Uncle & Cousin took on the Three Peaks Challenge and climbed Ben Nevis, Mount Snowden and Scarfel in the space of six days. 
S E P T E M B E R
14.09.2016 – Picking Up the Keys to our first Home
15.09.2016 – The Know Your Normal Charity Ball
After months and months of planning, the Know Your Normal Charity Ball was finally here and was an evening enjoyed by everyone who attended. We raised some fantastic awareness as well as money for the two charities. 
16.09.2016 – Smith's Annual Hayling Island Trip
20.09.2016 – Moving In
We moved in the day we returned from our Smith's get away. That first week was not an easy one, but we soon got ourselves settled in! 
22.09.2016 – The Boys Tough Mudder & Oktoberfest Adventure
Two days after we moved into our  house, Sean ventured off to Germany with his Uncle & Brother to complete the tough mudder and head to Oktoberfest.
24.09.2016 – A rough start at number 5
"How we feel about our morning so far. I had my first shower in our new house today (I'm normally a night time bather) and have come to the conclusion that there are two possible temperatures. Burn all of your skin off or freeze your butt off. No in between. Then poor Palf fell off of the bed on to a box and then on to the floor and landed on his back, proceeded to poo and puke everywhere, fall from the top to the bottom of the stairs and then not be able to stand up. After two hysterical phone calls to my mum & seans mum and running round the house like a mad woman I managed to get him round to my mums house where he's now sleeping on the sofa. Add all this to our mystery garden visitor the night before last and I can safely say I am ready for Sean who is in Germany for his tough mudder to come home already.
I'm at work today too so if you're passing, chocolate is 100% necessary."
25.09.2016 – Finding Out I Was Pregnant
The day you pee on a stick and those two lines stare back at you is a day you will never forget! Sean was still away at Oktoberfest and the dog and I had had an horrendous start to our new life in our new home (see above!) so finding out I was pregnant was just amazing!

While I was mopping up my Mum's tears of joy in Tesco, Sean was toasting our news with his uncle in Germany.
29.05.2016 – Telling Family about our Bump
Once Sean was home it was time to let his family in on our little growing secret! We told those closest to us fairly early on as it was such longed for news and I think it was my favourite partof the entire first trimester.
O C T O B E R
31.10.2016 – Announcing our Pregnancy
We'd had a worrying 10 weeks and keeping our little secret… well secret.. was becoming impossible! And so on Hallowe'en we decided to tell the world that we were pregnant.
N O V E M B E R
22.11.2016 – The Twelve Week Scan
We'd seen our little bean twice already at emergency scans earlier on in the pregnancy, but the 12 week scan actually showed a baby rather than just a blob! At this point it all started to sink in!
D E C E M B E R
11.12.2016 – Winter Wonderland
Sean & Dean suprised Tasha & I to a trip to London & Winter Wonderland in the lead up to Christmas. I think I've said it befire on here at some point, but we are so very lucky to be so very close to Sean's brother & his wife and to spend such a magical day all together was lovely. I went to Harrods for the first time and as a special treat for Tasha we saw her childhood hero's Sooty & Sweep live as well as a visit to the ice bar and having a wander around the Christmas market.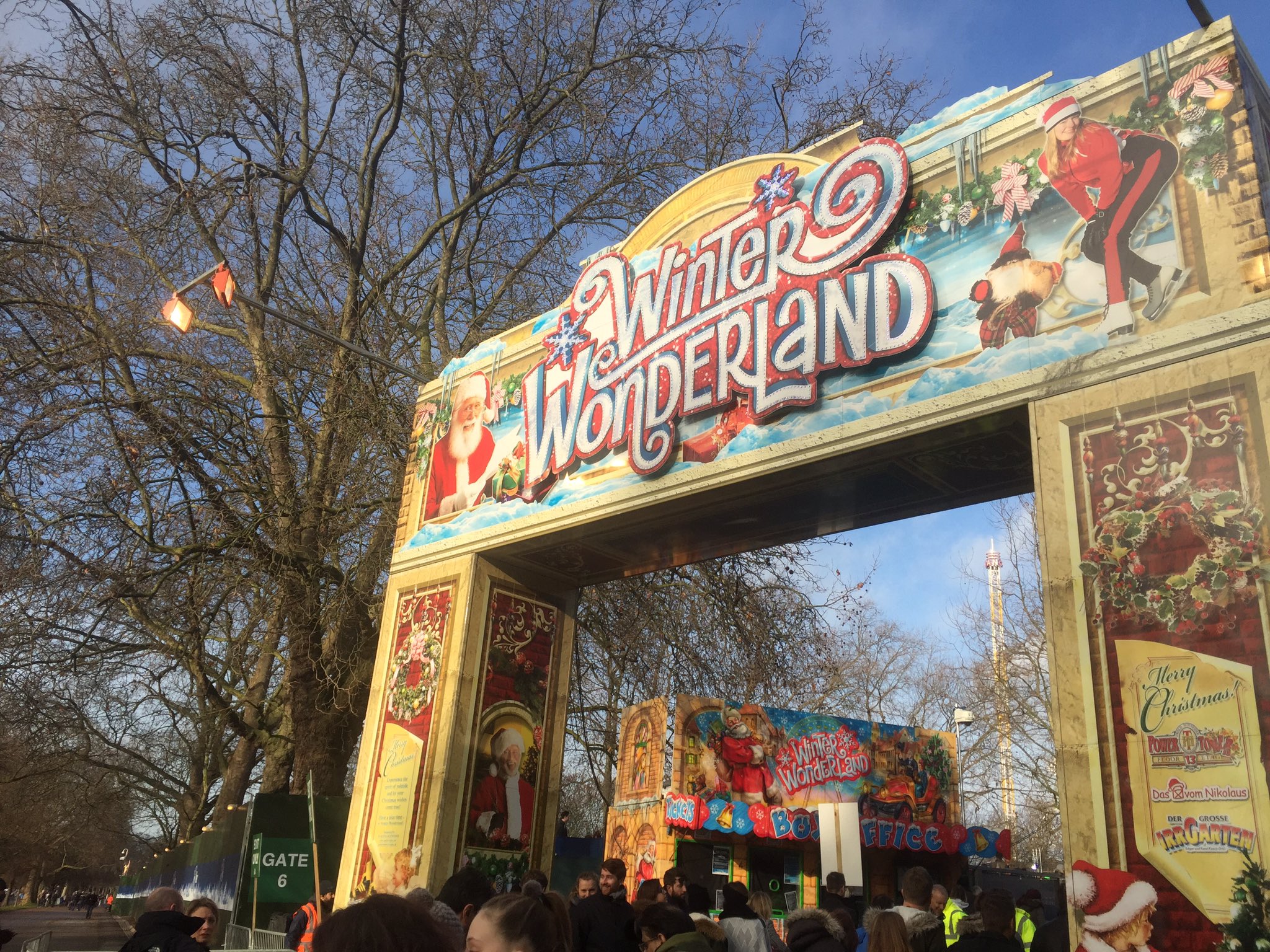 25.12.2016 – Christmas at The Smolt's
This is one of the only photo's I have of our first Christmas in our new home (excuse the tesco rubbish bag & the two bottoms in the background!)  – what can I say? We were all just having too much of a good time that we forgot to capture it on camera. Mum, Trevor & Libby came for dinner and then we were joined by the Smith's in the evening. It was such a perfect family oriented day with plenty of love and laughter.
26.12.2016 – Blowing Away the Cobwebs 
As the festive family time continued on Boxing Day we headed to the Coast with the Smith's for a walk along the sea front. Check out team Bobble Hat!
And that's our year in pictures! How was your 2016?