Following on from my post yesterday about what Florence is getting for Christmas, I thought I'd also share with you the things we have bought for William this year. With it being his first Christmas I have been so excited to choose the perfect gifts for him and I have actually been really surprised by how different what I have chosen is from the things we bought Florence for her first Christmas. They are so different and William is three months older at Christmas than Florence so there instead of lots of books and clothes, his gifts from us are mostly toys suited to him.
I explained in my last post that w edo ten gifts from Santa, a few from us and then later on in the day we give the children a bag of tea time gifts. So here we are… here's what William is getting for Christmas this year.
From Father Christmas
Wooden Rainbow Stacker
As much as I'd have liked to invest in the GRIMMS rainbow, I just didn't have the budget so I found a cheaper alternative on Amazon. First impressions of this are really good! It looks fantastic and I really love the opportunities for play that I know this will bring for both of the children. 
Stacking Cups
Seriously I cannot tell you how many sets of these we've had over the years — what happens to them?! William loves cups! Putting things in them, pretending to drink from them, stacking, pushing them over, rolling them, you name it he's done it and for  £3.95 in Wilko I know we are going to get our moneys worth out of them.
Galt Pop Up Toy
A friend of ours had this for her little girl when Florence was younger and I remember really loving the idea of it. It is a simple little wooden toy with four pop up sticks but it can be used to teach cause and effect, colours, and frankly hours of amusement when the sticks pop out. William will love it.  
ELC Twist & Turn Activity House
I'd never have chosen this in a shop before, but William;s great Grandma has one of these at her house and oh my, he spent ages playing with it while we were there the other week so I figured we could add it to his Christmas list to have at home. I bought it as part of the ELC 3 for 2 offer.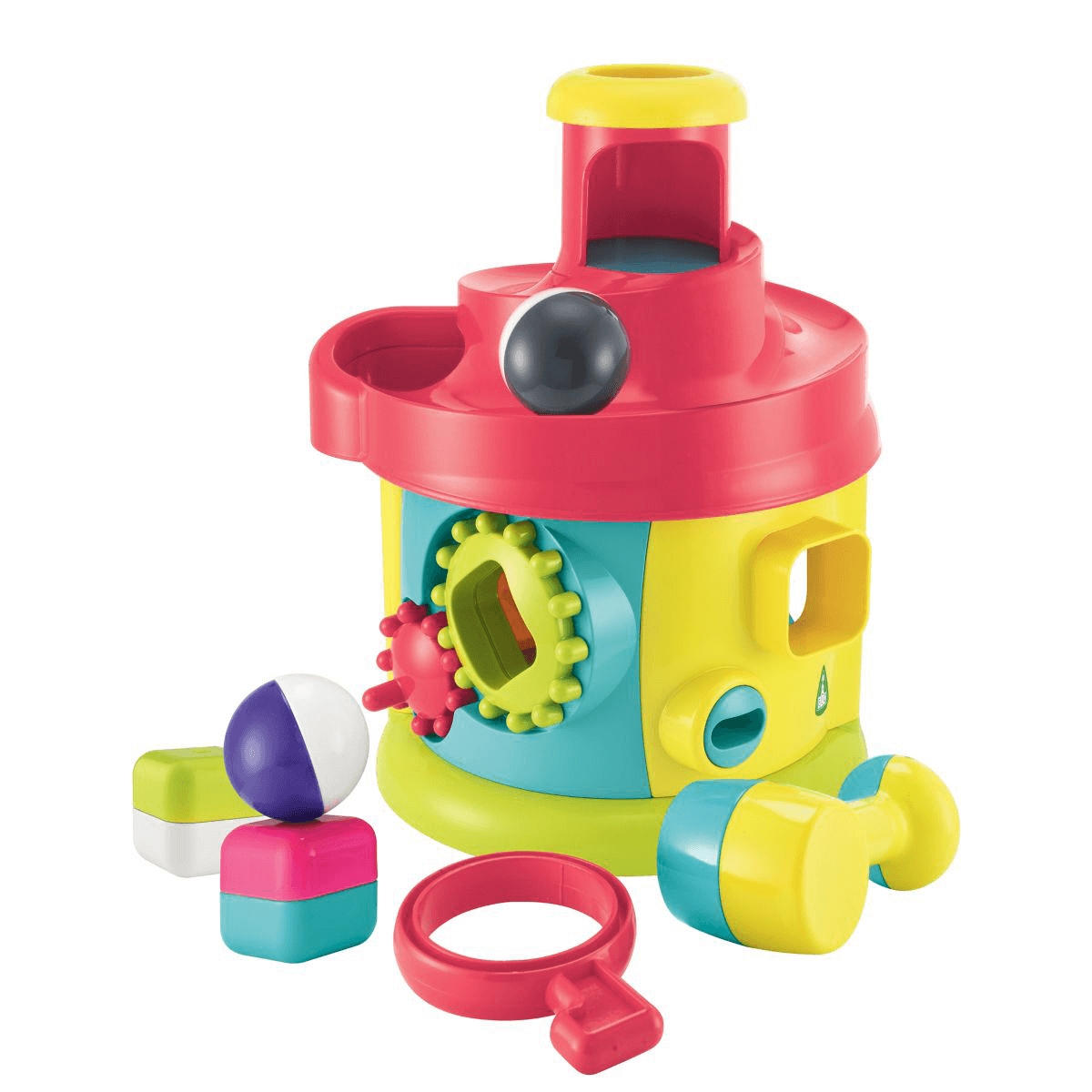 Pull Along Caterpillar
This was from Asda and again it's not online but it was a bit of a bargain and is beautiful, I promise!
Pyjamas
Whizz World Garage
As well as cups, William is massively drawn to cars. He loves pushing them around the living room and up and down ramps or all over people. Much to Florence's dismay when they get caught up in her hair. This was the toy I knew he would have for Christmas before I even started planning. I looked at a few different toy garages and even took to twitter for recommendations and this one from ELC came up trumps. 
Highchair toy
Bless William, he spends an awful lot of time in his highchair while Florence gets busy with messy crafts or baking and while I've got a little kit of homemade sensory toys to keep him busy I always feel a bit bad that he can;t get in on the action just yet. It won't be long until he's joining in, but in the meantime I bought this car highchair toy to keep him entertained.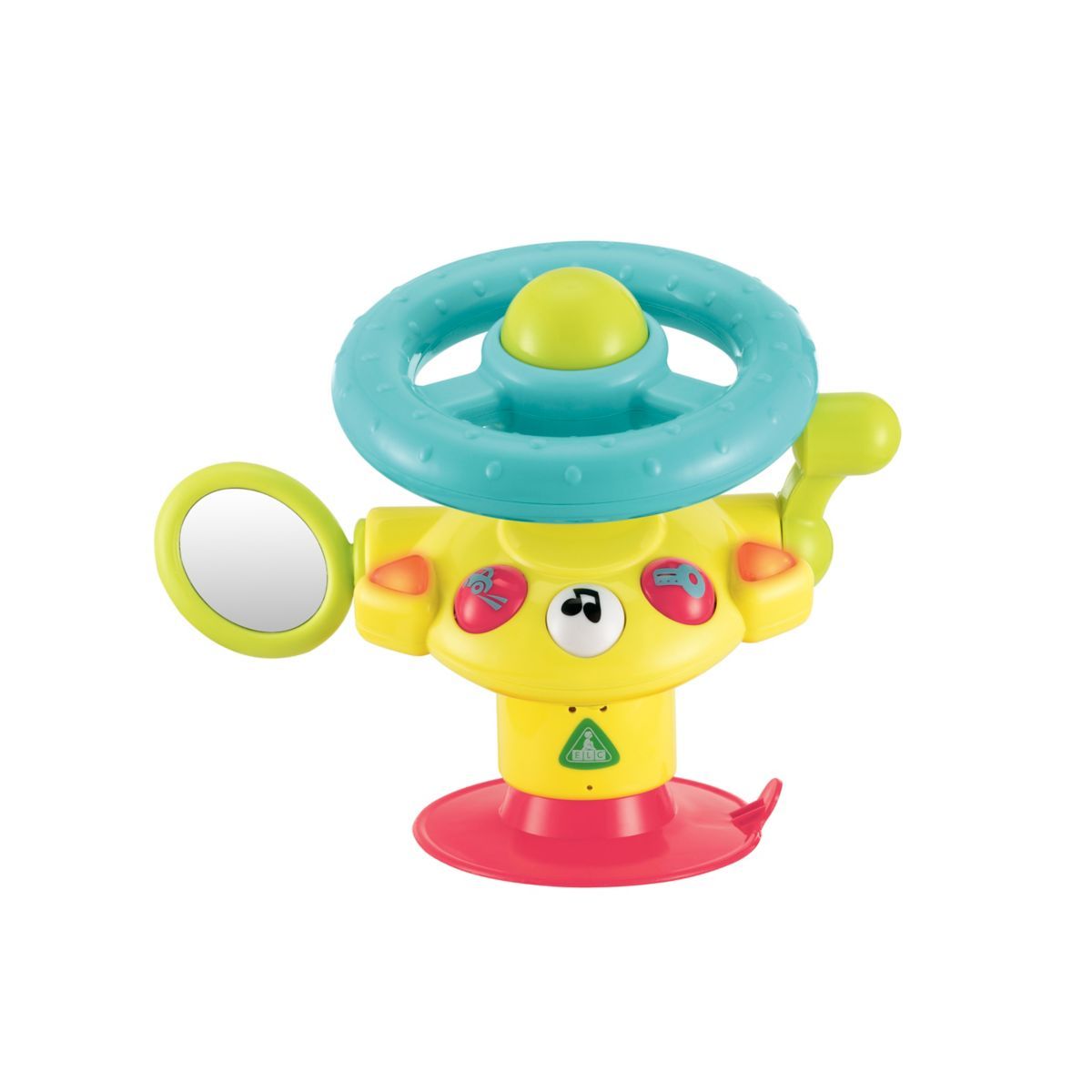 Personalised Wooden Train
Just like Florence, I wanted to get him something personalized and this wooden name train was just perfect. I ordered through Not on the Highstreet as they had an offer running but the retailer is The Letter Room and they are fab!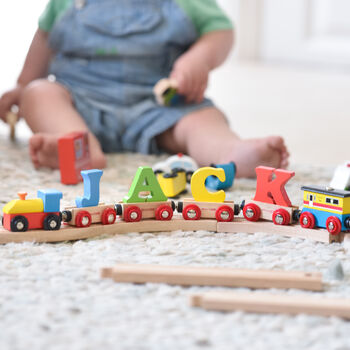 From us
We also bought him a couple of bits from us and unlike Florence's these are more functional things rather than toys.
Little Bird by Jools Knitted Romper
Little Bird by Jools Sleepsuit
Matalan Sheep Outfit set
Matalan Knitted Dungaree set
Tea Time / Stocking Fillers
These are the standard little bits which most people call stocking fillers, but we always open them after Christmas dinner or just before tea so they've been fondly known as tea time presents for as long as I can remember. Most of these have been picked up in poundland or similar stores and none of them cost more than a fiver.
Tooth Brush & Tooth paste
Money Box
Lanka Kade Penguin
Spoons
Spider Man Plate / Bowl / Cup set
Numbers Place Mat
I hope this has given you some inspiration for your own baby's first Chirstmas gifts. With only 6 sleeps to go, we're all getting a bit excited here. 
Follow me: Twitter / Facebook / Instagram / Bloglovin / Pinterest