I hope that this post is taken in the spirit that it's written – for inspiration for those who aren't sure what to get, rather than a showy off kind if thing, but I thought I'd show you some of the things Florence will be getting for Christmas this year.
A lot of thought has gone into the children's gifts this year and I've continued a tradition that my mum started when I was young of each of the children getting 10 things from Father Christmas and then some other bits from us too. I know that Father Christmas giving more than one small token is a bit of a controversial way to do things these days, but as long as they're taught gratitude and kindness along with it I hope that they would never gloat or make someone else feel less as they grow up. Neither of the children have super expensive gifts this year but in the future I'm sure the requests will start to come in and that's when we'll likely make sure 'main' presents come from us. I guess it's just a personal preference but I do love the sense of magic that Father Christmas brings and the feeling of  having woken up to a pile of gifts (regardless of their value –  one year all I had asked for was some paper!) from Santa as a child was just magical. All of their presents are already wrapped and they have their own Father Christmas paper that he's chosen specially for each of them – according to him, this saves a lot of time writing labels!!
The Father Christmas gifts
Unicorn Scooter
 We had originally got her a second hand paw patrol balance bike but out of nowhere she has been set on Father Christmas bringing a unicorn scooter so we are holding it back for her birthday. I've ordered this one from Argos which was £21.99 and part of their 2 for £30 deal so I picked up a gift for a friend's little on too.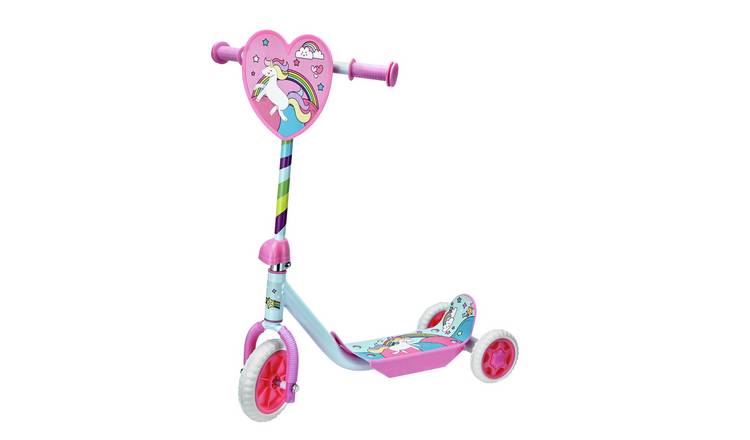 Wooden princess carriage
Asda sell some absolutely beautiful and great value wooden toys but very rarely put them on their website so it can be a bit of pot luck when you go into their stores as to what you might find. With Florence's recent adoration for Frozen and all things princesses I thought this little play set I found would make the perfect gift.
Fairy Dress up Set
I couldn't find the full set online but I've bought this pair of fairy wings together with a matching tutu  from our local Claire's store.
Skye & Chase Figures
These were a bit of a bargain find in our local Entertainer toy store at just £3.50 each. I guess they were so cheap because they are from the discontinued Mighty Pup range? Not sure, but they complete her collection and I saved some pennies too.
Wooden play scales
We do a lot of baking here and we are really starting to ecplore maths through our weighing of the ingredients etc. I thought it might be a nice idea to add some scales to her play kitchen so that she can not only expand on her roleplay but we can continue to explore numbers through play. This little set was £12 in Wilko. 
Frogs Frenzy Game
I'd really like to start having Sunday night board games as a family so I thought this would make a perfect little intro to board games for Florence at her age. It's like the original Hungry Hippos but with frogs! 
HappyLand Playground |  I'm adding just one thing to our Happyland collection this year, and that's this playground set.
 
Personalised baking bits | I mentioned above how much we love baking and I wanted to get something personalised for each of the children so when I found this personalised baking bowl & matching utensils from Sophia Victoria Joy I knew they'd be perfect! 
Gifts from us
Of course, the children will also both receive some gifts from us. The big guy isn't getting all the credit! We've chosen a few gifts for each of them to open in the morning from us and these will be wrapped in different paper so as not to ruin the illusion!
Elsa doll
Frozen Princess necklace
Pincer set
Fisher Price Music Set – joint with William
Tea Time / Stocking Presents
These are the standard little bits which most people call stocking fillers, but we always open them after Christmas dinner or just before tea so they've been fondly known as tea time presents for as long as I can remember. Most of these have been picked up in poundland or similar stores and none of them cost more than a fiver.
Tooth Brush & Tooth paste – Christmas just isn't Christmas if you don't get a new tooth brush am I right?
Money Box
Lanka Kade Unicorn
Stickers
Frozen Plate / Bowl / Cup set
Alphabet Place Mat
I hope this has given you some inspiration for your own 2 year old's Chirstmas gifts. 7 sleeps to go!
Follow me: Twitter / Facebook / Instagram / Bloglovin / Pinterest